Check out Jeanne's new ebook available at Amazon and at Google Play Books: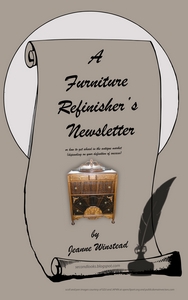 Second Looks Antiques and Furniture Refinishing
My husband Benny got started in the refinishing business years ago when he restored, refinished, and recaned his grandmother's porch rocker and other family heirlooms. Word of mouth started to snow ball as he began refinishing for family, neighbors, friends, and co-workers. For a while we expanded the business to include antique furniture and other items for resale. To promote this end of the business, we showed at antique shows, the Covered Bridge Festival, and flea markets around the state. We passed out our business card with our url on it - and I set up the website so that people who saw us at shows could revisit pieces they liked at our Virtual Show Room, browse our ebay sales, and communicate with us on an asynchronous message board (currently down because of spammers and also awaiting an upgrade) as well as through e-mail about refinishing work. We also networked with local business people and advertise in a local newspaper and in a restaurant menu.
In 2002 we maintained an ebay store and were an ebay Store affiliate. But in 2003, we closed the ebay store and opened a real world booth at Countryside Antique Mall on US 52 outside of Thorntown, Indiana. Soon after that we added a booth at Leaping Leopard Antiques on 4th Street in Lafayette, Indiana. However, I also continued to put items up for auction on ebay, and people in Massachusetts, Indiana, Kansas, New Jersey, Alabama, Arkansas, Oregon, Texas, Michigan, and Illinois have purchased our antique furniture online as well!

In those days we acquired our inventory wherever we could - estate sales, antique stores, ebay, flea markets, garage sales and even curbside! It's a lesson we learned when my grandmother moved into the nursing home. The family cleared her apartment, loaded my husband's truck with hopeless, broken-down old furniture, and told him to take it to the dump. And that is how I ended up with my lovely tiger oak library table, my beautiful maple bedroom set, and my walnut dining room set upon which the family dines every Christmas. These things may not have looked beautiful in the back of Benny's truck, but after he refinished and restored them ... let's just say we take the saying "One person's trash is another person's treasure" very literally. :)
Initially I tried to bring that certain random, cluttered 'look and feel' that flea-market and antique enthusiasts enjoy to the online experience. For example, I turned a photograph of our booth at Countryside into an image map, so that people can click on different items to get a better look. But the virtual environment is not the real environment. For one thing people expect the virtual environment to be faster and more convenient - so I've also tried to supply good web design and various search and browse features to quickly and easily guide people to what they are looking for. Needless to say, I learn as I go and am constantly tweaking our sites. In 2003, I started using seasonal designs to promote special occasions such as Countryside's Holiday Open House in November.
A big challenge has been finding ways to increase web traffic and I have looked for various link exchange opportunities as well as installed a banner exchange program on my website.
Technically we are not a true e-business. Before I could add a shopping cart and offer online credit card processing, we needed to solve the problem of how to best offer our inventory on different venues (online and at the Antique Malls). However, we did get inquiries about furniture refinishing through our website from people who live reasonably close – and in 2004 we even started received inquiries from people out of state about the occasional inventory item in our virtual show room and started selling the occasional item directly from our website! 2004 is also the year I started learning the art of veneer and carving restoration thanks to Benny who has me doing anything from driving a tractor to riding a lawn mower side-ways on a hill!
In both flea marketing and antiquing, people enjoy the hunt, the endless clutter and disorganization that make them develop sharp-shooter searching skills. They relish the unexpected, but especially savor the thrill of a good find or bargain. Antiquing is also a very social and learning-oriented activity. I find that both my work experience and my training in Computer Programming Technology (AS 1991), Educational Technology and Instructional Design (MS 2003), and Speech Education (BS 1972) come in to play not only in how we arrange and display our wares in flea markets and antique malls, but also in applying good web design to our on-line business.
I was especially thrilled to find this lovely little anime girl with her moving eyes at http://www.freeflashlogos.com - it fits the name of our business Second Looks almost perfectly!
Second Looks Furniture Refinishing
In 2005 we packed and moved from our domicile and residence of twenty-some years to a location rapidly becoming a main artery between cities and in to town that would give us higher visibility and more working space for our furniture refinishing as well as selling. It proved quite successful, however in 2006 Benny underwent valve replacement surgery and had to step back a bit. He officially retired in 2007. We had a series of successful sales (due to our new and highly visible location) and liquidated the inventory and antiques part of our business. We now rent out space for storage, let others sell at our location, and even have an apartment we rent. But Benny continues to do the furniture refinishing and chair weaving on a part time basis. And I may still sell the occasional item on ebay! ;)
And I have officially 'hung out my shingle' as a web consultant to flea market and antique dealers.