Teaching Excel to 5th Graders Through Video-Conferencing was a group exercise for my Design of Multimedia Instructional Materials class using Flash, Fireworks, and Dreamweaver. It was also the class that inspired me to continue my learning experience with web design and these products by developing this online Portfolio.
CGI-Scripting Resources on the Web was my semester project for the lab portion of my Introduction to Educational Technology Course. For this project I located, downloaded and learned how to install and use several free CGI message board scripts on my Purdue Career Account website in the fall of 1998. I also set up a listserve and found free web and CGI hosting sites. An on-line fan community from all over the US and Canada tested and compared these various on-line communication tools after I got them up and running. This project ultimately lead to the creation of the Prey Message board site which I currently support*. In the past ten years, we have been on three service providers and used four upgrades of Darryl Burgdorf's WebBBS script. Currently we are on the Tetra version.
Although I took Developing Educational Applications in HyperCard, several years before I officially started my Masters' work, this class was my first forray into the graduate level experience. I guess you could say I was testing the waters and I had a blast. We developed a series of HyperCard applications throughout the semester culminating in a final project. For my initial learning experiences I developed a stack that showed the sun rising and setting over a tree-lined horizon - in effect showing a "hyper-speedy" version of the 24 hour cycle.
My next project was showing a step aerobics sequence (with stick figures) to music.

My capstone project was actually work-related. Purdue's Materials Management and Distribution, where I worked as Systems Coordinator built and moved into a brand new warehouse and Central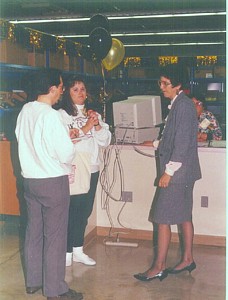 Delivery facility. I was deeply involved in helping plan the network for the new building. Anyway, a couple of months after we moved, we hosted an open house for the campus and served refreshments and gave tours. I developed a continuously running multimedia slide show that featured Mary Burns, Central Delivery supervisor briefly as narrator and hostess, and showed pictures of the building going up, as well as in all its completed glory. It used some HyperCard programming - and was my first experience working with an object-oriented design product to do some high level object-oriented programming. As I recall, the slide show ran on a Mac SE which fit comfortably on the cake and punch table in our new conference room. :)
And my professor, who was a very encouraging and thoughtful teacher, was actually kind enough to attend the Open House so that he could evaluate my final project! (He brought his daughter and they also went on the tour and had refreshments, so maybe that didn't hurt). ;)